ChatGPT Chrome extensions extend your browser's functionality. Chrome Extensions can be AI productivity tools that automate or augment your tedious tasks.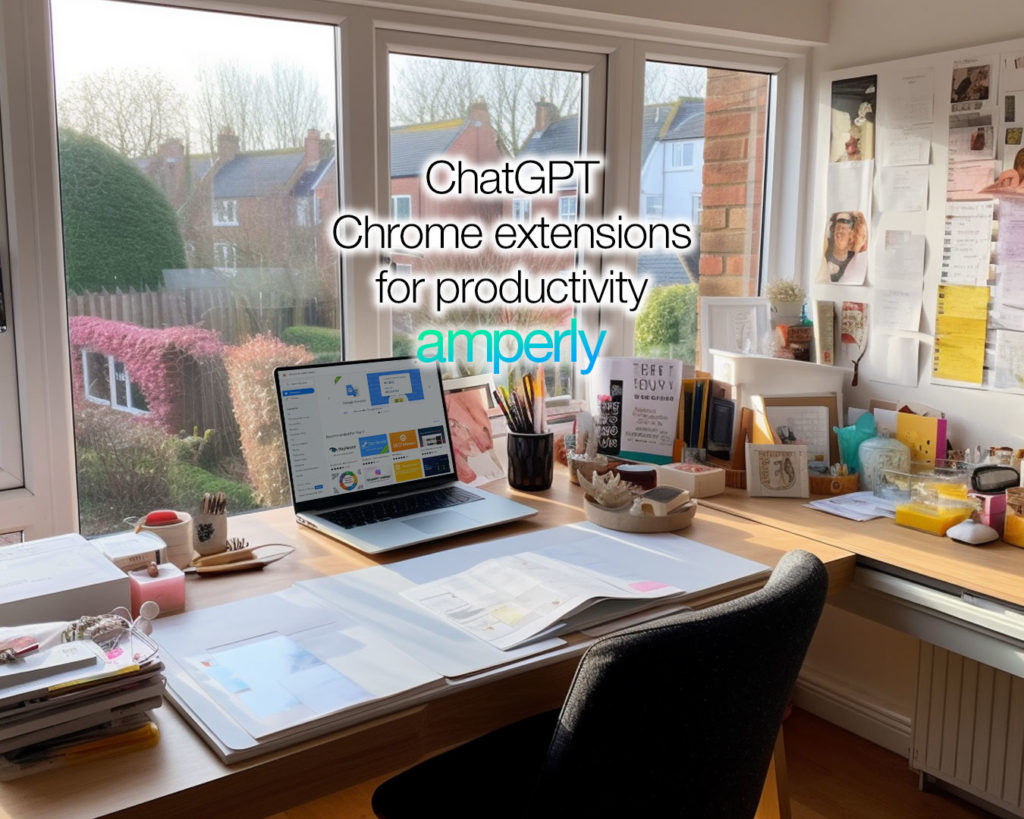 For example, I do a lot of SEO work and I often need to know the length of an article in words. Instead of copying the text to an external tool, I just select the text and right-click to get the word count with Count Me Up plugin. I do it a lot, so it saves me time, but more importantly, it will not break my workflow. Right now, I have 31 plugins installed on my browser.
Why?
Productivity!!
ChatGPT Chrome extensions increase productivity
First, plugins give you access to functions that are not available on your favorite browser. For example, I use the Scraper plugin to get data from websites.
It also makes some functionality easier to use or more accessible. I use the Wayback Machine extension when I need to see older versions of a page that has been deleted or changed.
Chrome extensions let you integrate your browser with other services. In my SEO work, I use the Ahrefs SEO tool. Ahrefs has an extension that augments the Google search results and gives you easy access to the SEO metrics of any page or domain.
Another way to to improve your productivity is to use ChatGPT API to automate your processes.
Check out our artificial intelligence consulting services.
ChatGPT Chrome extensions work on all Chromium browsers
I talk about Google Chrome extensions but they work on all the Chromium-based browsers. As my main browser, I use Brave. Then I also use Microsoft Edge when I want access to Bing Chat. But there are many other Chromium browsers:
Opera
Epic Privacy Browser
Vivaldi
Avast
If it's Chromium base it can use all the extensions in Chrome Web Store.
FinalScout: Email Finding and Outreach
FinalScout, has been lauded by users for its excellent lead generation and email verification capabilities, particularly with LinkedIn data. Users appreciate its user-friendliness, affordability, and seamless integration, which doesn't clutter the screen.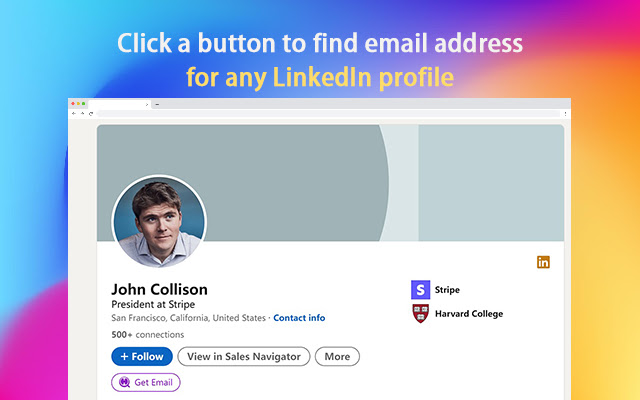 It's noted for boosting productivity by aiding in uncovering potential customers and opportunities. Its accurate and reliable results have led to wide-spread recommendations. In summary, FinalScout is highly regarded for enhancing business operations and sales efficiency.
ChatGPT Prompt Genius
ChatGPT Prompt Genius chat history exporting extension is appreciated for maintaining conversation structure and formatting, enabling markdown formatting, and prompt exporting. Its active development and effective integration with other apps like Obsidian.md and standalone ChatGPT Windows app are also valued.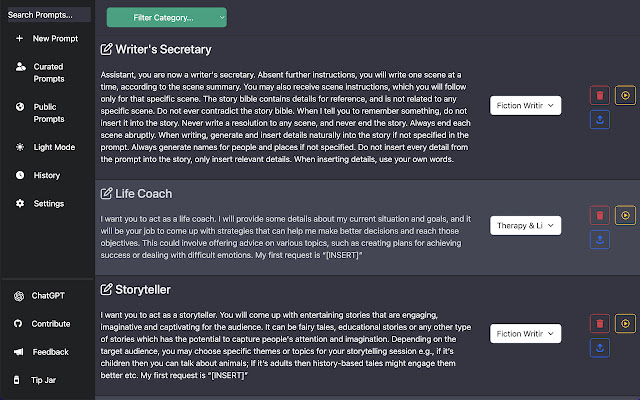 Despite occasional bugs and functionality issues, swift developer response is noted. Users have suggested features such as pinning conversations, customization of output markdown formatting, better handling of MathJax, and improved prompt pasting mid-chat for a more streamlined user experience.
ChatGPT Token Counter
ChatGPT Token Counter counts tokens in the ChatGPT active conversation on chat.openai.com. The ChatGPT Token Counter is a Chrome extension designed to help users keep track of their token count during long conversations with the ChatGPT language model on chat.openai.com.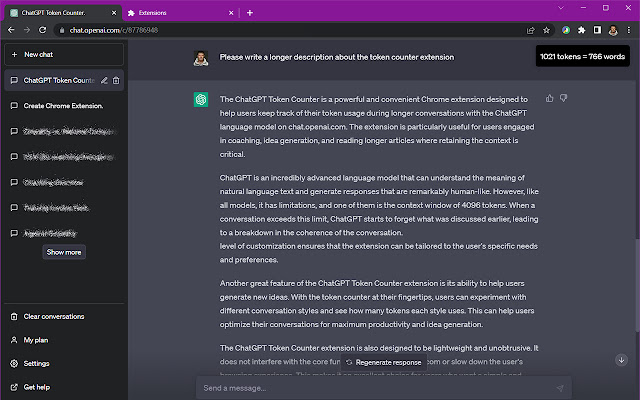 ChatGPT has a context window of 4096 tokens, and when the conversation exceeds this limit, the model starts to "forget" what was discussed earlier. This extension provides a convenient box in the corner of the window that displays the number of tokens used in the element of the conversation.
This helps users to monitor their token usage and ensure that their conversations do not exceed the context window, which is particularly important for coaching, idea generation, and working with longer articles where retaining the context is crucial. For example, when you use ChatGPT business coach. With this extension, users will know when context can be missing and will have more productive and meaningful conversations with ChatGPT.
You can find out about ChatGPT Token Counter here.
Botrush Browser plugin for ChatGPT
Users primarily applaud the Botrush Browser plugin for ChatGPT extension for its user-friendly design and practical functionality. They particularly value the feature allowing them to export chats to PDF and Word format.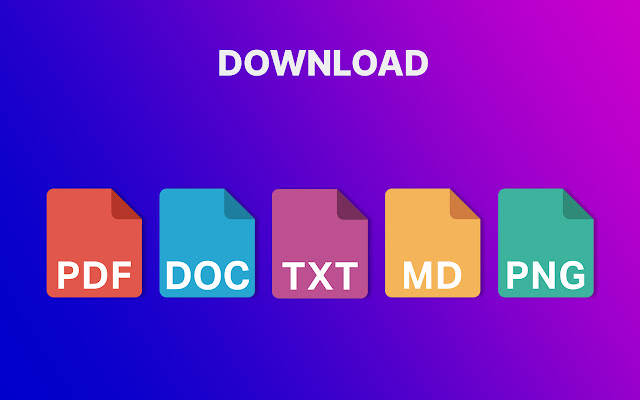 Although a few users have run into problems like hourly chat limitations and missing library options, they typically attribute these issues to factors outside the extension's control. Meanwhile, the Botrush team remains responsive to user queries and feedback, actively providing solutions and guidance. Lastly, users highly recommend this extension, citing its vital role in enhancing their productivity and documentation processes.
AdCopy.ai
AdCopy.ai chrome extension aims to make marketing tasks simpler. Its main goal is to resolve challenges and trim down costs that come with running a business. AdCopy.ai makes it easy to create quality ad copy, aiming to deliver the results needed for marketing campaigns without stress.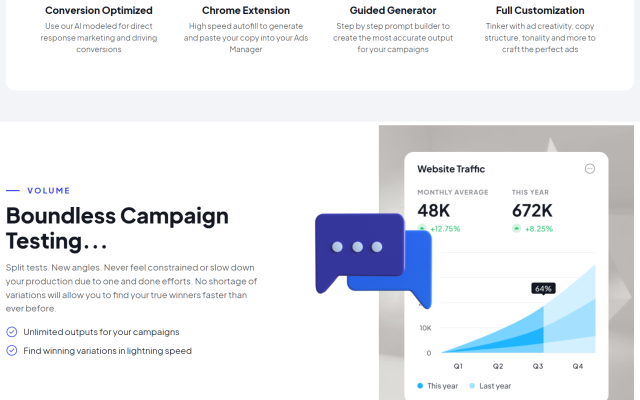 Using AI for ads that boost sales AdCopy provides a platform for producing or revamping ads in any language. The goal is to increase clicks and conversions for your businesses, assisting businesses in optimizing their marketing expenditure.
Voilà – AI ChatGPT powered assistant
Voila is being widely celebrated as a powerful and intuitive AI tool that seamlessly integrates into the user's daily routine. Its strong natural language processing capability stands out as a distinctive feature, allowing users to interact in a conversational manner.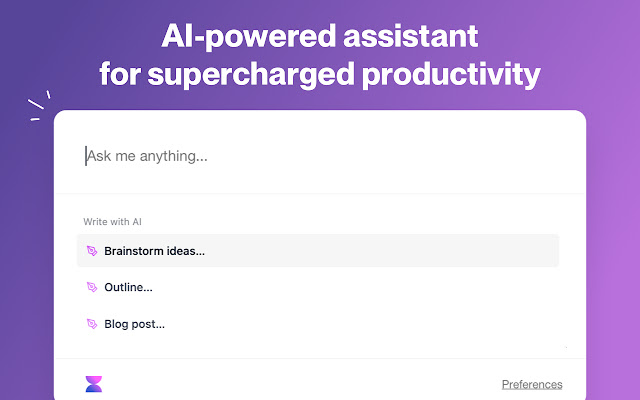 Notably, its functionality extends to regions with strict internet regulations such as mainland China, which is a unique advantage. However, there are areas of improvement. Voila needs to address issues with compatibility on certain browsers and enhance its language processing for non-English dialects. Despite these points, users express optimism for the future of Voila. They eagerly anticipate the tool's evolution, with particular interest in seeing an integration with Google Sheets, suggesting that such an update could significantly enhance its functionality and usability.
Scribe: AI Documentation, SOPs & Screenshots
Scribe AI is celebrated for its transformative impact on documentation processes, providing a user-friendly interface to create detailed guides and Standard Operating Procedures (SOPs). It saves users significant time, facilitating rapid recording and sharing of steps to complete specific tasks.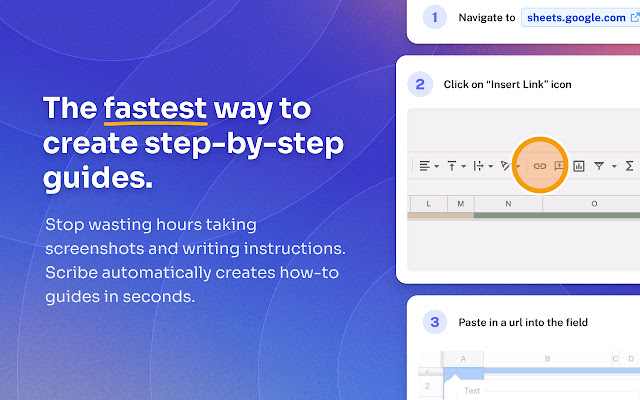 Its easy-to-use functionality is frequently used to create and share training materials. A common praise is the tool's ability to easily generate shareable links for training resources. Users suggest potential improvements, such as better marketing and increased customization options, including the ability to add a brand logo. Scribe AI also simplifies the creation of procedural and policy libraries for organizations. Lastly, it supports seamless embedding of SOPs within customer support platforms like Zendesk. Overall, it's hailed as an indispensable, efficient tool for workflow improvement.
Compose AI: AI-powered Writing Tool
Compose AI, an AI writing tool, has received mixed feedback from users. On the positive side, users appreciate its ability to save time in composing emails, creating content, and correcting language mistakes. The tool has been commended for its convenience, ease of use, and value for money, with one user comparing it to having a "cheap & decent copywriter."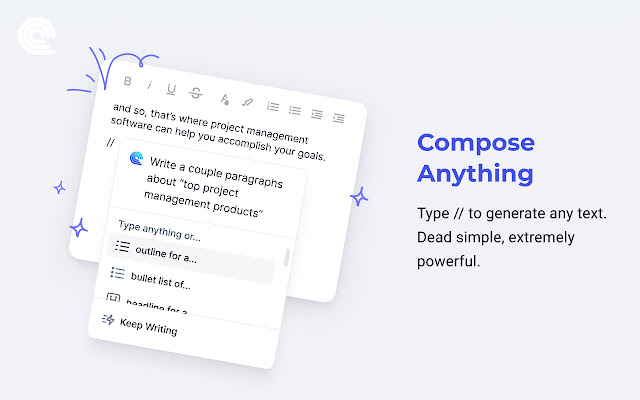 However, some users reported issues with subscription cancellation and charges. There were also complaints about the tool not functioning on specific websites or platforms, like Chrome and Google Chat, and some users reported glitches. Customers mentioned that the tool collected a significant amount of data, potentially including personally identifiable information (PII). The company's customer support was responsive, addressing each concern and providing solutions where possible.
ChatGPT Writer – Write mail, messages with AI
The ChatGPT Writer extension is a tool that is well-regarded for its convenience and its ability to help with various writing tasks. It enhances creativity and productivity, and is especially noted for its writing feedback feature. Plus, it's freely accessible, broadening its appeal. Despite these positives, it occasionally experiences operational challenges such as download issues and loading errors. Server capacity has also been flagged as a concern. Data security is a notable point of discussion, underscoring the need for the transparent handling of data.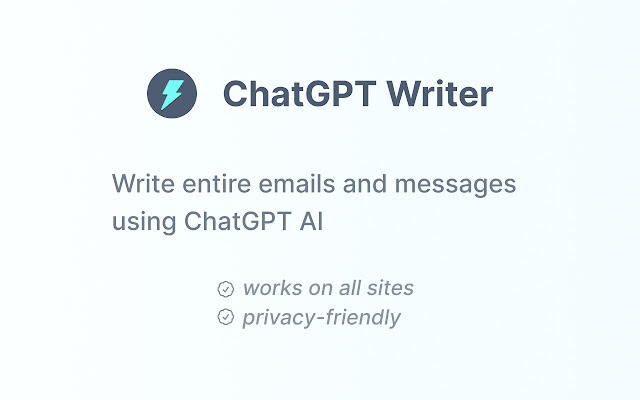 Its Gmail integration and easy-to-use interface allow for quick and effortless email crafting. The extension works smoothly across different websites, which adds to its utility. Moreover, there is a clear desire for the extension to be updated frequently in order to keep up with the rapid evolution of ChatGPT features.
ContentBot AI Writer
ContentBot shines with its long form and paraphrase functionalities, which make article synthesis and rewriting a breeze. Its long form feature can generate relevant and insightful content from minimal input, often surprising users with its creativity.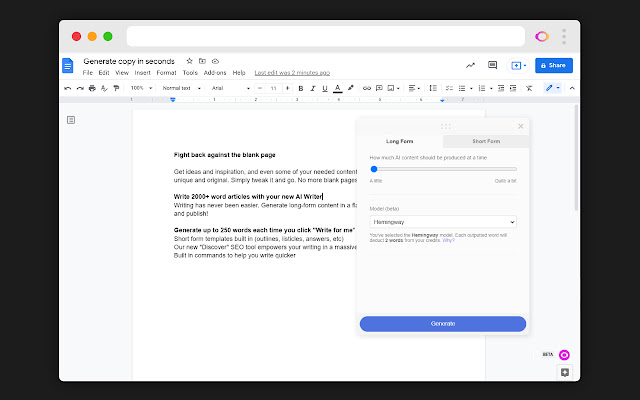 Users praise the tool for its ease of use in generating long-form content quickly. The accessible extension feature enhances this user-friendly experience. This AI writing tool crafts unique content promptly, earning high recommendations.
ContentBot boasts standout features like blueprints, automated blog generation, and listicle creation, proving it a powerful resource for marketers needing versatile content solutions. The extension adds convenience, allowing use across platforms like Medium, Google Docs, WordPress, and Facebook.
Regular updates and exciting new features keep the tool at the forefront of AI writing solutions. Users may need to edit its output to match their writing style, and some find it verbose with detailed prompts, but overall, Content Bot proves a valuable asset in fostering creativity, even under fatigue.
UseChatGPT.AI: ChatGPT AI Copilot for the Web
The UseChatGPT.AI extension is highly praised for its user-friendly interface and intuitive select-option feature, making it a vital tool in many daily routines. It allows for easy use of frequent prompts, providing a significant time-saving benefit. This extension is versatile and supports GPT-4, provided users have subscribed to it in their ChatGPT account. A minor hiccup with the Alt + J shortcut can be solved by simply refreshing the page.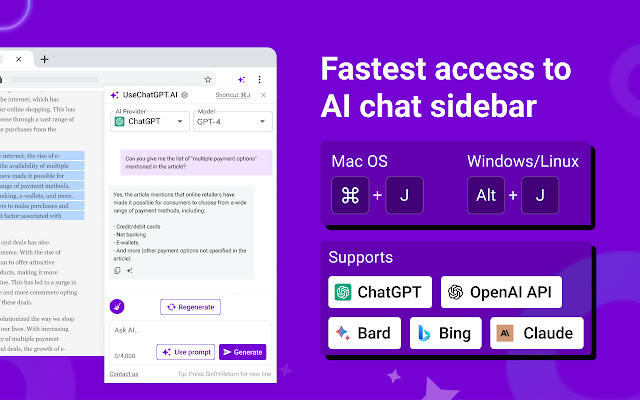 What makes this tool even more appealing is the Cmd + J shortcut, bringing convenience to users on a new level. Besides its impressive features, the extension is recognized for its strong stance on privacy and data security. It serves as a powerful tool for rewriting, browsing, and summarizing content, turning it into a game-changer for many. While the extension is currently available in English, there's a desire among users for additional language support, including Brazilian Portuguese.
Eightify: Youtube Summary with ChatGPT
Eightify is an AI-powered extension that generates summaries of YouTube videos. It serves as a time-saving tool by extracting key points from lengthy videos. However, the summaries are reported to be quite basic and lack depth, leaving room for improvement. The extension doesn't currently support dark mode, a popular feature for many users.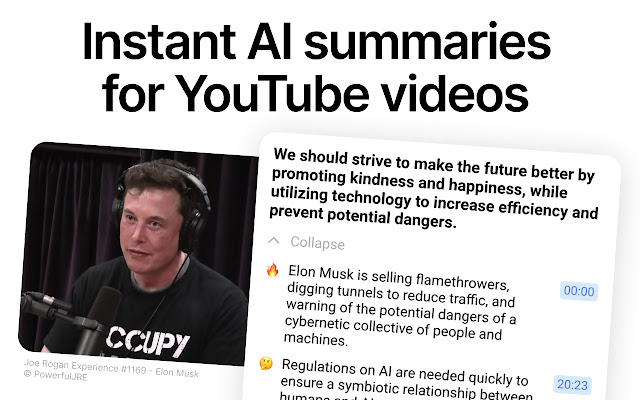 Concerning pricing, the extension offers a few free summaries per week and charges for additional ones. Although some view this model unfavorably, others see it as fair given the value they derive from the product.
In terms of compatibility, Eightify had issues with the Brave browser, which have since been resolved. However, users have expressed concerns about the extension's privacy policy and the collection of personal data. Also, some find the requirement for Google authorization problematic.
The extension has received feedback suggesting enhancements, such as incorporating a direct audio-to-text conversion mechanism to increase summary accuracy. Even with these potential areas for improvement, the extension is viewed as a substantial time-saving tool, particularly beneficial for those wanting to stay informed without investing a significant amount of time watching full videos.
SciSpace Copilot
SciSpace Copilot is a game-changing extension for reading and understanding scientific literature. With an impressive ability to simplify technical language, even complex mathematical equations become easily understandable. It offers interactive multi-language support, enhancing the reading experience for a global audience. The tool also presents related paper suggestions, allowing readers to delve deeper into their research.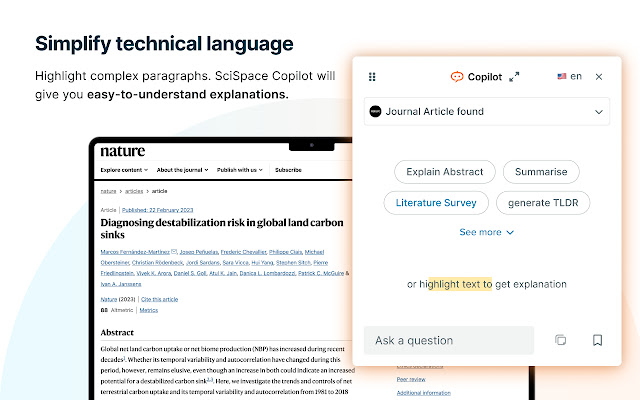 There's room for improvement in the depth of explanations, as they can sometimes seem simplistic. In addition, an enhancement to the PDF viewer to allow for content searching would make this tool even better.
One standout feature is the chatbot, which responds accurately and helpfully to preset or custom queries. This contributes to a smooth learning journey, promoting a comprehensive understanding of complex scientific content.
The Copilot supports PDF interaction by explaining math equations and tables. This extends to multilingual support, making it a great asset for non-native English speakers. Future updates like note-taking and highlighting promise to add even more value.
However, there have been minor issues with text explanation load times and inconsistencies in translations. Despite these areas for improvement, the tool has proven invaluable for making research work more efficient and productive. SciSpace Copilot, as a whole, is highly recommended for anyone frequently engaged with scientific papers or technical blog posts.