Not investment advice. If you had invested in these instruments over the last year, you could be down 35 to 50 percent.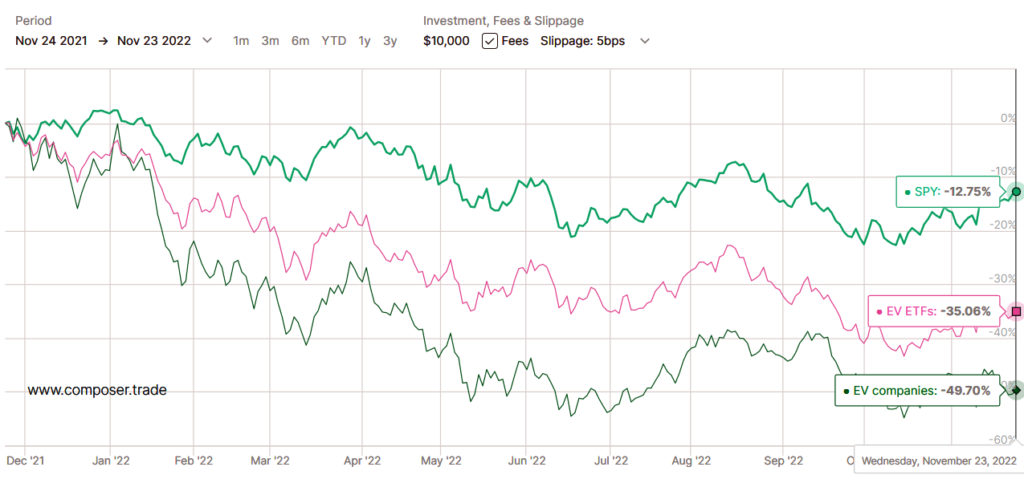 More manufacturers bring EVs to the market, allowing more consumers to get EVs. Investors should look at traditional automakers since they are jumping into the EV space. While there are no mutual funds dedicated to electric vehicles, there are ETFs as well as individual stocks to invest in.
Stocks: TSLA, RIVN, FSR, F, VOW3, GM
ETFs
The Global X Autonomous & Electric Vehicles ETF (DRIV) seeks to invest in companies involved in the development of autonomous vehicle technology, electric vehicles ("EVs"), and EV components and materials.
KARS is benchmarked to the Bloomberg Electric Vehicles Index, which provides exposure to companies engaged in the production of electric vehicles and/or their components.
HAIL, The SPDR S&P Kensho Smart Mobility ETF seeks to provide investment results that, before fees and expenses, generally correspond to the total return performance of the S&P Kensho Smart Transportation Index
IDRV, The iShares Self-Driving EV, and Tech ETF, seeks to track the investment results of an index composed of developed and emerging market companies that may benefit from growth and innovation in and around electric vehicles, battery technologies, and autonomous driving technologies.
The Global X Lithium & Battery Tech ETF (LIT) invests in the full lithium cycle, from mining and refining the metal, through battery production.
Race to cheaper EV batteries with less costly materials
Today's EVs run on lithium-ion batteries, which cost more than $10k, are mostly made of lithium, cobalt, manganese, and nickel. These materials have increased in price during the last two years.
The new battery tech could cost 30 to 60% less. But there are difficulties in working with the materials. Sodium doesn't hold as much energy, and sulfur can damage parts of the battery.
Still, companies are investing millions of dollars and have government support to develop sodium-ion and lithium-sulfur batteries. Read the full article here